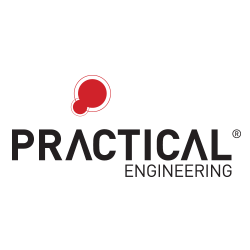 Practical Engineering is a mechanical engineering consultancy located at Acacia Ridge. They specialise in design certification, structural and mechanical design, lifting equipment design, pressure vessel and tank design, process equipment design, materials handling design and machine design.
website design
Practical Engineering's new website was developed by following the concepts of bold design and friendly wireframe. The new design efficiently distributes content throughout the website by breaking down a complex structure into visually relevant information.
practicalengineering.com.au
Nerang Dam bridge video
Surge Media's video for Practical Engineering highlights their involvement in the design, supply and installation of an access platform across the spillway of Little Nerang Dam. It features footage of Practical Engineering employees and stunning scenery, captured from a helicopter.
EWP demonstration video
Surge Media created a video that focuses on Practical Engineering's Elevated Work Platform equipment. This video highlights the administration side of the company and therefore, has more of a professional, business look. Combined with a professional voiceover and animation, this video engages viewers of al different industries